Miracle Advantage

The Miracle Advantages
Our customers are special to us, and we consider our community to be our family. That's why we developed the 8 valuable advantages for our customers. Consider these a series of exclusive benefits designed to make your buying and ownership experience as rewarding as possible.
Murphy Auto Group has always been family-owned and operated. These advantages were originally conceived by our founder, Dennis Murphy, to do more for our customers. Combined, these benefits create The Miracle Advantage which is included in all new and qualifying used vehicle purchases at any of our Miracle dealerships!
Full details are provided below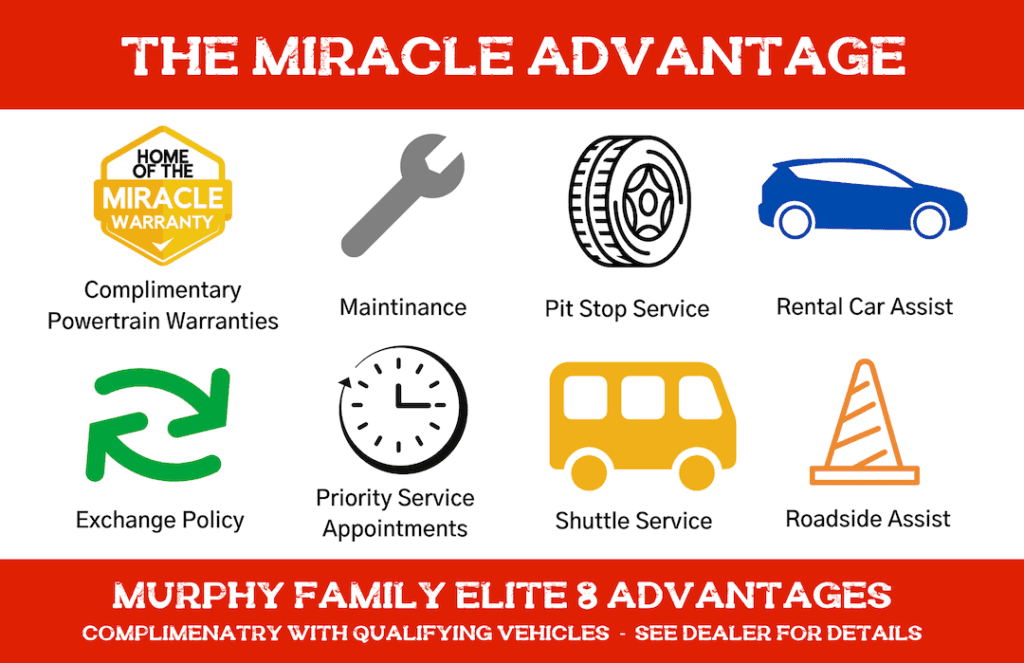 Miracle Advantage #1 Added Warranty Coverage
In addition to all manufacturer-provided warranties, Murphy Auto Group is proud to include additional powertrain warranty coverage for all new vehicles purchased within the Miracle family of dealerships. Click Here (link to Warranty Page) to learn more about the complimentary warranty packages that we include with all new vehicles and Miracle Certified pre-owned vehicle purchases.
New & Miracle Certified Used Vehicles qualify
Miracle Advantage #2 Vehicle Maintenance (2 years) 
Factory recommended maintenance is included on all new vehicle purchases at our dealerships. We'll cover these costs for two (2) years or 20,000 miles – whichever comes first. Visit dealer for complete details.
New Vehicles qualify
Miracle Advantage #3 Pit Stop Service
Complimentary Pit Stop Service is one of our most utilized advantages! Running low on time? We've got your back. Going on a road trip? Stop in before you travel. There is no need to make an appointment when all you need is a quick vehicle check-up to ensure your safety. Just drive into our service bay for a quick and easy fluid level check and tire inspection. We'll top off your fluids and refill your tires at no cost to you if necessary!
New & Used Vehicles qualify
Miracle Advantage #4 72-Hour Exchange Policy
Our goal is always to put you into a vehicle that you'll fall in love with until you come back for your next vehicle. Our revolutionary exchange policy ensures that you're happy with your purchase.
The 72-Hour Exchange Policy is valid on all new and used vehicle purchases – with a sales price of over six thousand dollars ($6,000 before tax). The exchange must take place within either 72-hours of accepting delivery of the vehicle or three hundred miles (300) – whichever comes first. The exchange must be for a vehicle of equal or greater value. The difference between the original vehicle and the new vehicle will either be paid for or financed by the customer.
New & Used Vehicles qualify
Miracle Advantage #5 Rental Car Assist
This advantage is offered should you need to leave their vehicle with us for overnight service. Our rental car assistance program covers one night only. Our friendly service department team can provide details and help with this benefit.
New & Used Vehicles qualify
Miracle Advantage #6 24-Hour Roadside Assistance
If you need another reason to buy a new vehicle, this is it! We love to share this advantage with our customers as it provides true value when you need it most. The 24-Hour Roadside Assistance program covers 36 months, or 36,000 miles – whichever comes first. This perk is included with every new vehicle purchase at our dealership. What can we assist with today? Battery jump-starts, lockout protection, and more are all covered! Visit our dealership and we'll walk you through this benefit.
New Vehicles qualify
Miracle Advantage #7 Shuttle Service
As a family-owned and operated auto group, we strive to provide our guests with convenience whenever possible. While you wait for your vehicle to be serviced, settle into our comfortable waiting room and enjoy complimentary WiFi and a snack. Or, if you have someplace that you just have to be, our team is ready to help! We offer a complimentary shuttle service to your home, your office, and even nearby shopping & dining locations.
New & Used Vehicles qualify
Miracle Advantage #8 Priority Service Appointments
Skip the line! When you purchase a vehicle at any Miracle dealership, the full family of dealerships is prepared to treat you like family. You'll be guaranteed priority service appointments to meet the needs of your busy schedule. Appointments are available for all available dates and times – Monday through Saturday.
New & Used Vehicles qualify
*BONUS* Advantage #9 Give Back to Your Community
A portion of every vehicle that we sell goes directly back to local charities in your community. This covers both new and used vehicle purchases at all Miracle dealerships that comprise Murphy Auto Group. If this sounds too good to be true, please visit our Community Page to explore the impact we've made in recent years. As a family-owned and operated auto group, community and philanthropy are in our genes!
New & Used Vehicles qualify
We're different. Let us prove it!